There are three reasons to hack something together:

often just because you can,
rarely to save money
and sometimes, because you just can't find what you want.
In this case it was a combination of the last two. I need a pair of isolating headphones which are sturdy, compact and comfortable and don't turn into cable spaghetti when you put them in a bag. For a while I tried using in-the-ear ear phones and wearing a pair of folding ear protectors over them. It worked but it wasn't very practical or comfortable. So if you can't find what you're looking for, why not just build it yourself? This isn't exactly a new idea, but I haven't seen it done quite like this before. Unfortunately I didn't know how well this would work out so I didn't take a lot of photos of the build process, but it's pretty self-explanatory.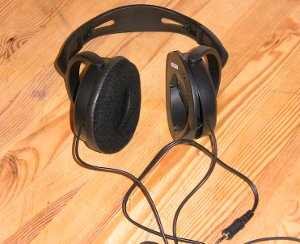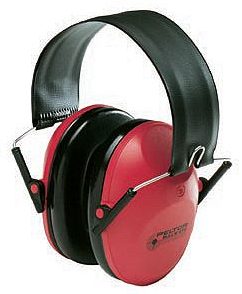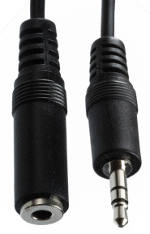 I started with a pair of decent head phones for the speakers, a set of el-cheepo folding ear protectors and an audio extension cable (not to scale). Total cost was under 30 euros. After pulling off the ear pads from the head phones there were three screws to take them apart, then I desoldered them from the wire. In the finest punk-rock tradition I ended up using a regular hand saw to cut the casing down. Since they are mostly hidden inside the ear protectors it wasn't important to make them pretty, just smaller.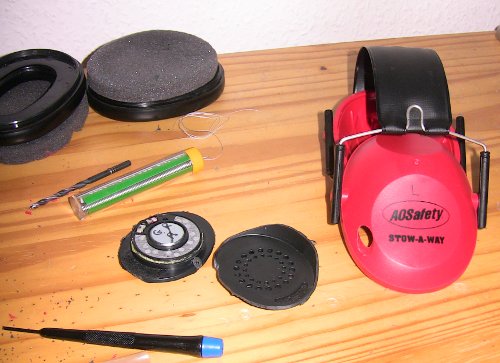 In the picture above I've already hacked the speakers down to size. You can see that I've left a little bit of a an edge. This edge pushes the speaker back far enough so that there's still comfortably enough room for my ears. I've also drilled the hole for the audio connector into the left side of the ear protectors. Once I started drilling I also found out that the padding in the ear protector just pops out, so you can see it sitting in the back.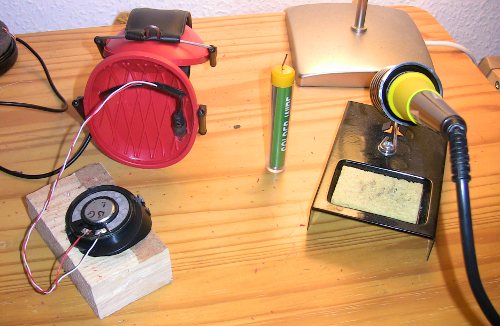 For the audio plug I just cut an extension cable in half. Here I've already superglued the female connector in place and soldered it to the left speaker. I also drilled a small hole near the hinge for the wire to the right speaker.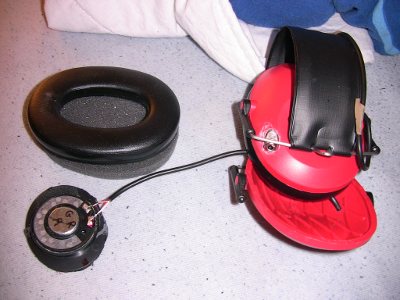 It's hard to see, but in this picture I've already reassembled the left ear cup, which was as simple as putting the foam in place and snapping it back together. At first I just taped the wire for the right speaker in place until I tested everything.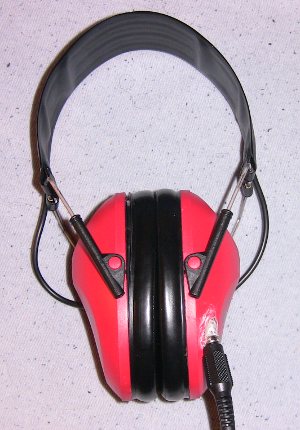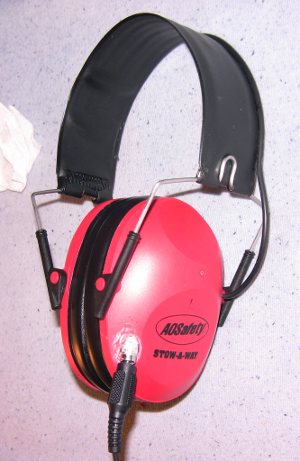 And here's the whole thing assembled. It's still lacking a certain amount of pretty, but they sound very nice indeed and some day I'll get around to painting them. For the audio cable I soldered the male end of the extension cable to the cable that came with the original headphones for that "oxygen-free copper" audiophile experience, but when I'm traveling I use a smaller cable which fits between the ear cups when they're folded. With this design there's no cable spaghetti and if the cable catches on something or I step on it, it just pops harmlessly out of the socked, not damaging either the headphones or my neck.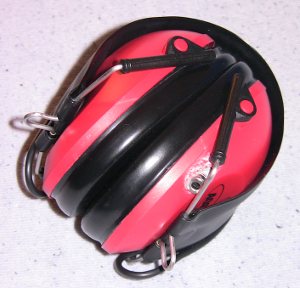 And finally, here they are folded up, nice and compact. It's hard to see in this picture, but the right speaker wire fits under the hinge without being pinched. They're quite sturdy and the sound quality is very good indeed. They don't isolate quite as well as pre-modification, but they're still more than adequate. My only regret is not making them sooner. Thanks for reading.